So this might be one of my most exciting posts (ok, tied for my dog sitting gig). This past Saturday I became a BA (Bad Ass). I wear this badge with pride. You may laugh as to how I got this recognition, but I will tell you I am now a force to be reckoned with. You've been warned.
But first let's start with a recap of the day I became a BA (MoFo).
Saturday morning started off with a trip to do some bathing suit shopping (where I successfully bought two tops) and a stop at Bone Fish Grill. The main reason for my obsession of this place is the AMAZING Ocean Trust Tropic Heat Martini (absolut vodka house-infused with pineapples, freshly muddled mango, lemon juice + a thin slice of jalapeño). I love it! Plus they donate $1.00 to Ocean Trust which builds fishery wildlife and marine conservation partnerships. Sadly, we only had one as we were eating a quick lunch to head out to the pool and beach. To fuel I had their Cilantro Lime Shrimp Salad, minus the shrimp, corn & feta, plus avocado and a side of couscous which had tomatoes, green onions and pesto. I always mean to make couscous dishes at home but never get around to it.
We headed to the pool to get started on that tan and to cool off in the water. Since I knew the ocean water was mildly gross the day before the pool was my chance to swim. We then headed to Ron Jon to see if we could find a bathing suit for Monica. No luck, but I did find a cute lace dress and skirt (that place is huge and you can easily lose an hour in 15 minutes…I know that sentence seems impossible to me too). We then headed to the beach down the street from our dinner spot. This is where the subliminal messaging started. We were laying out and mid conversation I see Monica make a heart shape with her hands while staring up at the sky. Out of the corner of my eye I see a cloud formation that legitimately looked like a heart, so I quickly took a photo. A quick dip in the ocean which included a few screams that the floating seaweed was touching me and that I bet there were sharks, we went back to lie down again to dry off.
For an early dinner we headed to the Green Room . A delicious joint that has all kinds of great eats for my vegetarian pallet. For a smoothie I had The Banzai, which is cranberry, blueberry, pineapple, apple juice & banana. So refreshing! For the actual meal I had the Golden Fold, a vegan friendly option that has brown rice, carrot, pineapple, sesame seeds, spinach, cabbage and tofu with some special seasoning. The pineapple is such a fun and different addition to the wrap. I am too chicken to add such an item to my own dishes but I really should try to incorporate it. Challenge? Sounds like it.
So as we are casually eating our food Monica says "Why don't we get a tattoo? A small one. On our back to blend in with all our freckles". I look at her, think about it and say, "OK". She stares at me with a twinkle in her eye. We were supposed to get tattoos together 5 years earlier. Monica got one on her neck. I did not (chicken shit is right). So, we start scrolling on our phones of small tattoos we like. We wanted something that reminded us of our friendship or at least where our friendship started (in the Adirondacks). So, we thought along the lines of a tree, mountains, star, moon. We settled on mountains. On the inside of our finger. Different. Discrete, but we would still see it.
We head out and Monica looks at me with mischief and asks if I am ready. I stay calm cool and collected and say "yeah". As we come up on the sign for the tattoo parlor she asks "Are we doing it? I reply, "Up to you" (maybe I was looking for a way out?). Monica makes the turn and we park. As we walk towards the building, which is all kinds of interesting, she tells me to walk in first, at which I point I say, "Fine, but you are doing the talking". "Deal". We walk in and I am borderline freaking out. I told myself I wouldn't text Andrew until it was done, just to make sure he didn't give me the opportunity to talk myself out of it. The gentlemen started to tell us about the location of a finger tattoo which he said we would have to potentially re-due, due to the wear and tear of the area. Okay, we decided change of plan. Maybe on our wrist? No, too noticeable. So then we start thinking maybe we should do a heart since our mountains might look funny just floating on our bodies. Okay that makes sense, cute and small. I love Monica as if she is my sister, and after 26 years and being each others maids of honor, the heart was definitely appropriate. Since I want to see it, Monica suggests our collar bone area. Perfect. I can hide it behind my sleeveless shirts at work, but I get to see it whenever I want. Plus it sits nicely near our beauty marks and freckles (we are littered in them).
Once the ink and needles were getting prepped for our one minute tattoo I sent Andrew a quick text saying, "You will never believe…". Andrew quickly texted back, "Believe what?", but I left it at that. I drew a series of hearts striving for the perfect cute symmetrical bubbles. At first the tattoo artist was going to draw it on us freehand, but we were adamant that I wanted him to put on tracing paper whatever I drew. I didn't want to look at the heart and remember the dude, I wanted to remember Monica and I and our ridiculousness. I had Monica go first so I could gauge the level of pain on her face. I was making her laugh with the fear written all over my face so I had to look away so she did not move. Her face looked painless for the outline, and then she grimaced slightly on the fill in. I decided at that moment I was not filling in my heart. My tattoo was now down to a whooping 30 second process (BA I know, I know).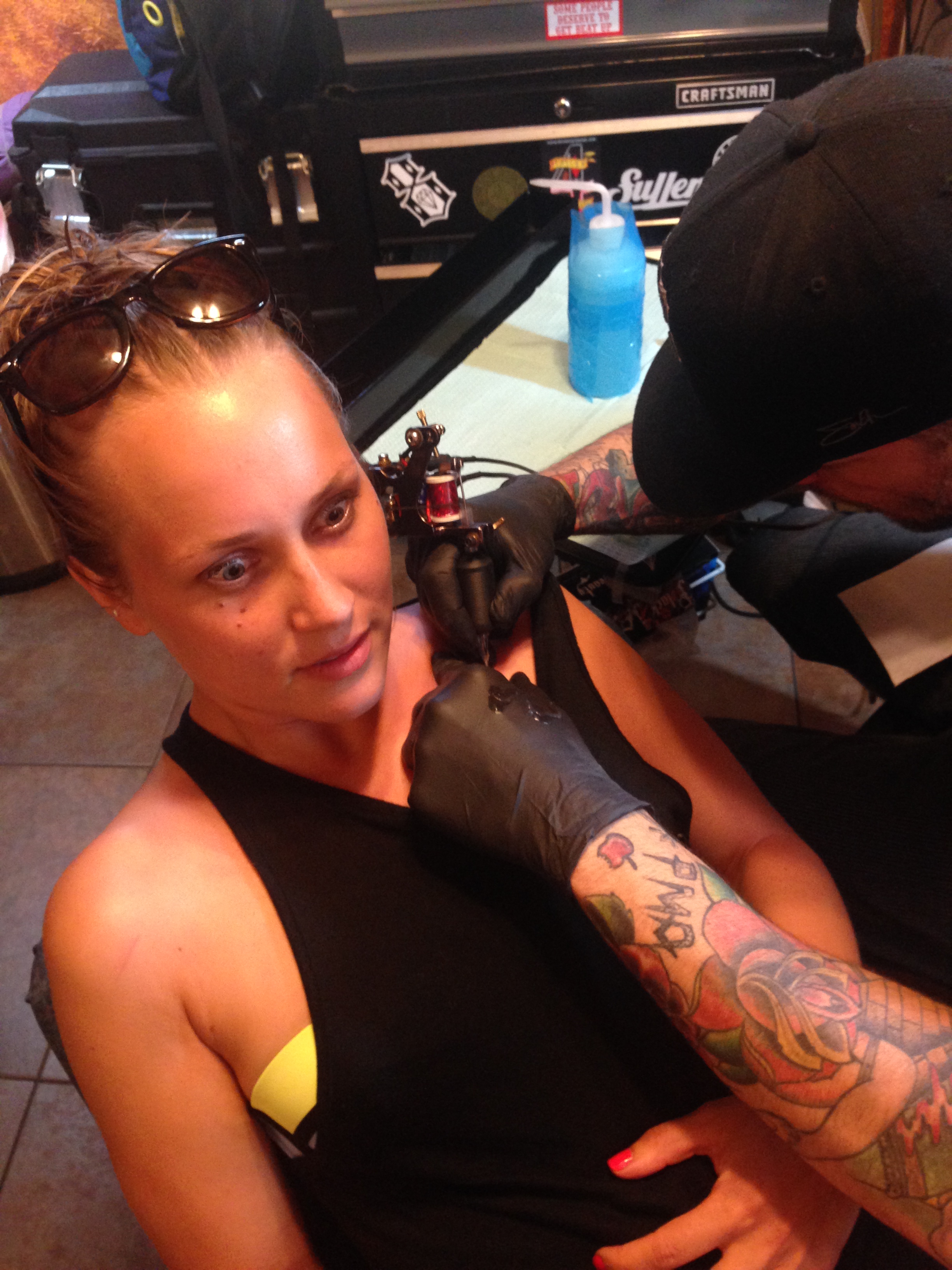 It's my turn to sit. Thoughts through my head : OMG I am doing this! My dad probably wants to kill me right now seeing me from wherever he is! That okay I am going to hell with Andrew now (he's got one himself)! OMG what am I doing? I got this! Its tiny, you are not that bad ass. What?! Yes I am!
A minor sting, serious meditating, and some wide eyes later, it was done. I was officially a BAD ASS. I asked about taking care of it and he said with it being so small I can put some Aquafor for a week and it should be fine.
I sent Andrew the photo and he immediately called. "Babe, what did you do….? " , "Exactly what it looks like?" You got a tattoo?" "Yeap" "Like really" "Yeap, I am cool like you now".
Could this have been an act of defiance since I know my dad would have killed me but now that he's gone I can do it and not feel guilty? Maybe. But really, it was just the approach. I am more likely to do anything if it is a spur of the moment casual thing than if it is pre-planned. I love it. I sometimes peak at it under my shirt and smile.
Monica told her mom immediately and she said it was cute. She is not telling her dad because he will kill her and blame me as an accomplice (we have been getting in trouble together since we were 2). I told my brother, he shook his head in disappointment. I showed my mom and she was convinced I drew it on and it wasn't real (I had to show her photos to believe me).
Andrew…Andrew says welcome to the club. BOOM.